Rams Vice President, Partnership Development Mike O'Keefe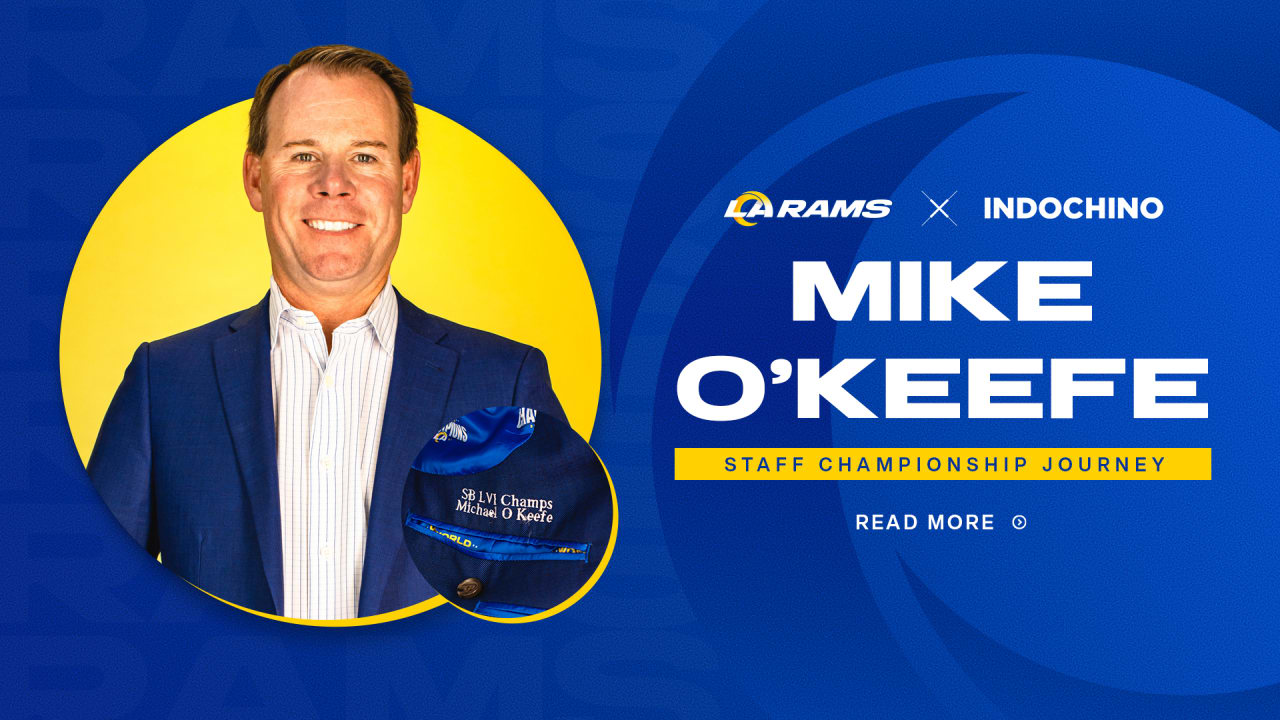 Longtime Rams staff member Mike O'Keefe was involved in the organization's two Super Bowl victories.
He was in his second season with the team in Super Bowl XXXIV in 1999 while in St. Louis, working as a club seat sales manager. Then, 22 years later, he watched the Rams end their sixth season in Los Angeles with a Super Bowl LVI victory while serving in his current role as Vice President, Partnership Development.
"It's really the story of two very different Super Bowls," O'Keefe said. "The 1999 Super Bowl really came out of nowhere. I mean, there were so many incredible stories that could never even have been imagined, from the rise of Kurt Warner to the electrifying offensive style that Mike Martz brought – The Greatest Show on Turf – it was very different. It was a Cinderella story, and nobody expected us to ever win that Super Bowl, so it was really kind of out of the blue Super Bowl 34 just happened and no one could have predicted.
"I feel like Super Bowl 56, we were expected to win a lot of ways, and so it was very different. Even from the very beginning, we were in the conversation and there was in the media that said we could we could win the game. And with additions like Von Miller and OBJ, we were expected to play in this game, so it didn't come out of nowhere.
Like these outside opinions, O'Keefe's perception also changed with the Rams' second Super Bowl victory.
O'Keefe said he used to believe that the business side of football could not positively affect success on the pitch. For this side of the organization, their job was to stay away and make sure they didn't negatively affect the team by distracting their preparation.
"This season proved me wrong," O'Keefe said, "because there were so many examples of programming, content, and community events that we hosted on the business side that I felt like transcending the commercial side and having a direct impact on the players to really help realize how special this year was and this moment was for us."
One of the organizational goals the Rams set for themselves early on was to win the Super Bowl in Los Angeles. While that goal has different meanings in different departments, O'Keefe said he felt like he was wanted even by these off-field events.
"In the truest form and truest sense of winning the LA Super Bowl, we brought this to life," O'Keefe said. "So it was definitely an organizational win for everyone in the building when (Rams owner/president) Stan (Kroenke) lifted that (Lombardi) trophy at SoFi Stadium."
When the Rams moved from St. Louis to Los Angeles in 2016, O'Keefe — and his family — moved with them.
O'Keefe said that in returning to Los Angeles, the franchise's goal was to build an all-new organization from the ground up while maintaining its culture. This included "high" goals on both the business side and the football side, one of which was – and still is – for the Rams to become one of the most powerful brands in the sport. While winning a Super Bowl won't achieve that by itself, it's an important and necessary step to achieving that goal.
So on top of that, what also resonated as the most rewarding part of this journey to the franchise's first Super Bowl title in Los Angeles was being able to experience this win with his wife and three daughters.
"Getting through this, and especially after moving from St. Louis, which was a really big deal for us, all of this just crossed my mind when time expired and confetti started flying," said said O'Keefe. "It was a more powerful moment than I can even put into words."
Beyond those memorabilia, the final coin commemorating this landmark victory is O'Keefe's second Super Bowl ring, which he mounted on the same finger of the same hand as his first – the right hand and the annular.
"I will probably wear it this season for the 2022 home games, just to show and tell with customers and fans, but I can never imagine wearing both rings at the same time," O'Keefe said. "I think only players can pull this off."