Pavilion and the MTQ sign a PPA to generate 19.9 GWh of clean energy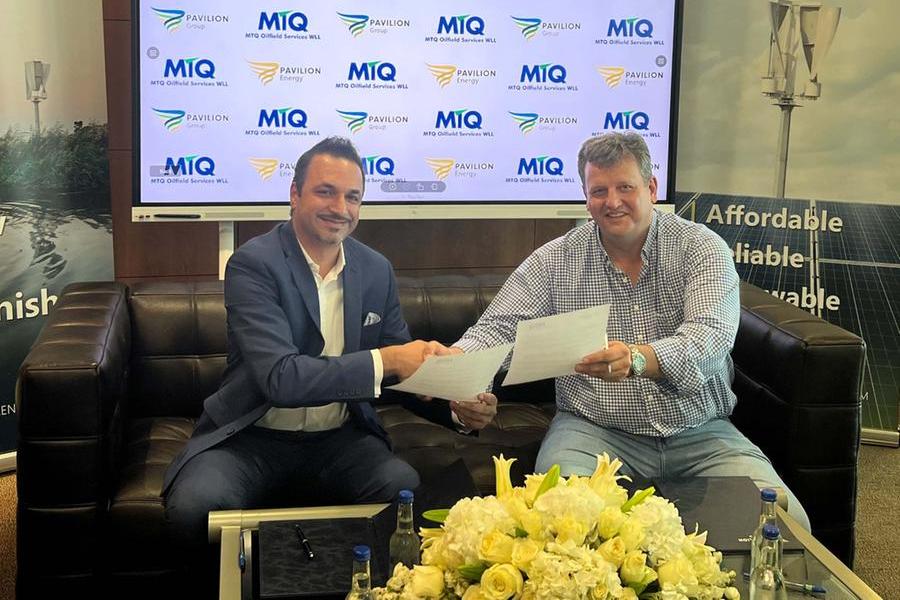 Manama, Kingdom of Bahrain: Pavilion Group, a leading global provider of energy, water treatment and waste-to-energy solutions based in Bahrain, recently signed a Power Purchase Agreement (PPA) with MTQ, a an oilfield engineering company that is headquartered in Singapore and has a state-of-the-art oilfield services facility in the Kingdom of Bahrain.
The PPA states that Pavilion Energy, the leading provider of sustainable energy solutions and a member of the Pavilion Group, will supply the MTQ facility in Bahrain with Pavilion's innovative renewable energy solutions, which include licensed rooftop solar systems. and custom solar carports.
The signing ceremony was held at the Pavilion Group Headquarters, located in the Financial Harbor District of Bahrain, attended by Mr. Ian Roos, Executive Chairman of Pavilion Group, and representing Mr. Kuah Boon Wee, Chief Executive Officer of the group for MTQ Oilfield Services WLL, Mr. Asif Vorajee, Managing Director of MTQ Oilfield Services WLL Also present was Mr. Isa Al Doseri, Managing Director of Pavilion Energy and CEO of Pavilion Water, as well as representatives of both parties .
Pavilion's solutions will bolster the MTQ's efforts to harness clean energy in its operations and reduce its carbon footprint, helping it generate approximately 19.9 GWh of clean energy through the installation of more than 1,200 panels on their site. The project will help the MTQ reduce its carbon emissions by 14,083 metric tons. This step will have a significant positive impact on the environment, as it is equivalent to removing more than 3,000 cars from the roads and planting approximately 233,000 trees.
Commenting on the occasion, Mr. Ian Roos, Executive Chairman of Pavilion Group, said: "We are pleased to announce the signing of this PPA with the MTQ to carry out this promising project in its plant in Bahrain. As an establishment authorized and licensed by the Kingdom of Bahrain to produce, generate and sell energy, Pavilion constantly strives to promote sustainability, enabling institutions in all sectors to use clean energy, achieve its sustainability strategies and reduce its carbon footprint. It also reflects Pavilion's desire to further strengthen its key supporting role in achieving the objectives of Bahrain's Economic Vision 2030, as well as the Kingdom's initiative to achieve net zero carbon emissions by 2060."
To learn more, Mr. Isa Al Doseri, Managing Director of Pavilion Energy and CEO of Pavilion Water, explained, "Since its inception, Pavilion Energy has focused on delivering clean energy with optimum efficiency and environmentally friendly solutions. the environment. We provide unique innovative technologies that help our customers and partners reduce their energy production costs, maximize their profitability and limit their carbon footprint. In addition, Pavilion Energy offers long-term energy capture, generation and supply services with no upfront costs and professional maintenance provided by a team of high-calibre engineers. We are pleased to sign this agreement with the MTQ and look forward to extending this collaboration to broader horizons in the future.
For his part, Mr. Kuah Boon Wee, Group Chief Executive – MTQ Corporation Limited, said, "Reducing our carbon footprint is important to MTQ. This collaboration with Pavilion Energy represents our third facility to have installed solar panels after two earlier in Singapore. We continue to seek to reduce our carbon footprint by exploring renewable energy sources.
Further commenting, Mr. Asif Vorajee, Managing Director of MTQ Oilfield Services WLL said, "MTQ is focused on reducing our carbon footprint and we aim to rely on renewable sources to meet as much of our own energy needs as possible. With the signing of this PPA with Pavilion Energy in Bahrain, we will convert our rooftop space and newly formed parking space to supply power generated by solar panels.
Pavilion Energy is part of the Pavilion group with over 34 years of experience in the field of renewable energy. Based in the Kingdom of Bahrain, the company specializes in generating clean energy by harnessing wind energy with its unique licensed two-axis vertical wind turbines, using solar energy with highly efficient solar panels and innovative solutions energy recovery from waste in a cost-effective and environmentally friendly manner.
-Ends-
About Pavilion Group
Pavilion Group is a regional leader in providing energy, water and sustainable agriculture solutions through its subsidiaries, including Pavilion Energy (using solar and wind energy, in grid-tied solutions and off-grid as well as energy recovery from waste), Pavilion Water (water filtration, desalination, treatment and waste treatment by pyrolysis) and Pavilion Agriculture with its sustainable agriculture solutions. Established in 1988, Pavilion established its headquarters and major manufacturing operations in the Kingdom of Bahrain in 2017. At Pavilion, we aim to create a positive impact on the environment and society by reducing the global carbon footprint and giving back access to clean, reliable and cost-effective energy. and zero-emission water.
For more information, please contact Pavilion at [email protected] or visit our website www.pavilion-renewables.com and follow our social media accounts.
About the MTQ
MTQ Oilfield Services WLL is a wholly owned subsidiary of MTQ Corporation Limited. Founded in 1969, MTQ Corporation Limited ("MTQ") specializes in engineering solutions for oilfield equipment, including repair, manufacturing and rental operations. Recognized for its vast experience for more than 35 years and its commitment to quality service, the MTQ is the authorized working partner of some of the largest drilling equipment manufacturers in the world and is accredited to carry out fabrication and repair work in accordance at the American Petroleum Institute. Standards.
For more information, please log on www.mtq.com.sg, [email protected]
A press release prepared by Media Scene for WLL Public Relations and Translation on behalf of Pavilion Renewables.
For more information, please contact: Email: [email protected]